Double your impact this Earth Day.
News
Author: Rose Bradbury
Published: 21 April 2023
Plastic waste is causing major environmental and health challenges in Cameroon. The country produces more than 600,000 tonnes of plastic every year with only 20% being recycled. The dumping and burning of waste cause the spread of disease, pollute land, air and water sources, and contribute to climate change. If its disposal is not properly managed discarded plastic can block drainage channels and make flooding worse for affected communities.
Blocked drains provide breeding grounds for mosquitoes and increase the spread of disease. If plastic is burned, it releases harmful emissions that can damage people's health and contribute to the climate crisis.
WasteAid has been working in Cameroon since 2020 to fight plastic pollution both on land and in the sea by providing sustainable, practical solutions that not only address the environmental and health challenges of pollution but also empower and educate the communities where we are active.
WasteAid is taking part in the Big Give's Green Match Fund campaign, which means that any donation made to WasteAid through our campaign link below will be DOUBLED until 27th April.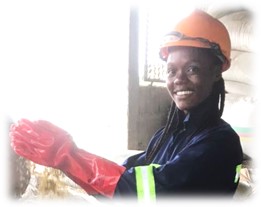 "I am 20 years old. I didn't go to school this year because of financial issues… Now I know the different types of plastics. I didn't know the positive impact that it may have just to recycle a bottle and now I keep my environment clean. By working in waste collection, I kept money so that next year, I will get back to school. Right now, I can say that I know many things about plastics. I would like to truly thank the project for this opportunity"
Fernanda – WasteAid programme participant.
Donate this Earth Day and help WasteAid support more people like Fernanda.
£8 doubled could provide the tools to turn woody waste into sustainable cooking fuel
£13 doubled could help promote our challenge funds that provide business incubation support to local entrepreneurs
£25 doubled could provide 10 bulk bags to enable waste collectors to collect more plastic waste and prevent it from going to landfill
£50 doubled could secure training for informal waste-collectors to increase the value of waste collected and improve health and safety practices
£125 doubled could provide a set of digital scales to ensure transparency and fair payment for waste collectors
£250 doubled could provide two plastic collection points in a community to reduce plastic in the environment