An interview with Bunzl's Melanie Harris on her visit to WasteAid's project in South Africa.
News
Author: Rose Bradbury
Published: 1 December 2022
On 18th October 2022, WasteAid hosted a pitching event for their "Bunzl Waste Entrepreneurial Challenge" in Randburg, South Africa. As their funding partner, Bunzl Plc has played a significant role in enabling the tailored training of 20 Wastepreneurs working in the informal sector over a 12-week period. The training has been delivered by local professionals in the waste space who have equipped the Wastepreneurs with skills and knowledge to help them move up the waste value chain in South Africa. The pitching event signified the end of the training and was an opportunity for the Wastepreneurs to pitch their business ideas to a panel of judges and receive a portion of seed funding.
The WasteAid team in South Africa was joined by members of the Bunzl team including James Pitcher, their Head of Sustainability and Melanie Harris, a Key Account Manager from Bunzl in Western Australia. We were able to catch up with Melanie on her experiences whilst visiting the project.
Thank you for joining WasteAid in South Africa Melanie! Please could you tell us a bit about your background and how you came to visit WasteAid at the pitching event in Randburg?
I am a Key Account Manager for Bunzl in Western Australia, managing Fortescue Metals Group. FMG are a mining company employing over 10,000 people. We supply their workwear and PPE. I was fortunate enough to win the Bunzl Global "We Believe Sustainability" award, chosen out of 21,000 employees and 70 nominations from our various business units around the world. This award was presented to someone whose role isn't technically in sustainability, but has demonstrated a commitment and passion in this space. This was for the work I had done with my FMG in helping them achieve their ambitious sustainability objectives through multiple initiatives (which are ongoing). The prize was to join our Global Head of Sustainability for the Waste Aid/Bunzl Waste Entrepreneurial Challenge.
What were your first impressions of WasteAid and our work?
I was blown away by the passion and commitment of the WasteAid members I met in person (Jessica, Angela and Rebecca) and virtually (Michelle), who are all such lovely people and so passionate about their business. The work that WasteAid is doing in marginalized communities is beyond inspiring.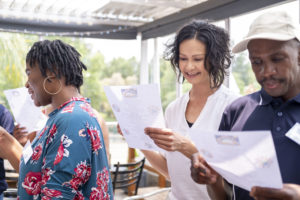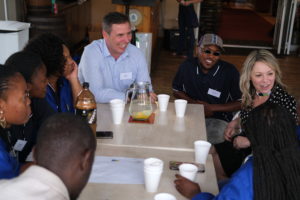 Did your expectations of the visit match with the realities?
In reality, I didn't know what to expect… but there is no way I could have envisioned such an amazing experience. Without slipping into hyperbole, the visit was a life changing experience; to see the realities of life in South Africa and what these young people face was both confronting and inspiring. South Africa: Equal parts terrifying and inspiring! On day one, we were meant to visit Diepsloot where 800,000 people live in a 12km2 area; in abject poverty. Crime is high, sexual assault is high, living conditions are atrocious. 25,000 people (out of the 800,000) share 640 public toilets, which equates to 39 families sharing 1 toilet.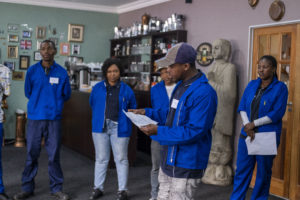 The informal sector is responsible for 90% of waste collection, and the result is that waste is literally everywhere; leading to obvious sanitation issues…and burning of waste contributes to 10% of ozone emissions. As a result, the informal sector is the solution, and individuals act as waste pickers; they pick up rubbish and return to "buy back" centres to make a living. The buy-back centres then sell back to bigger manufacturers who shred the plastic and sell to the big recyclers (a big one here is Petco) or big companies such as Coca Cola (who have recyclable targets to meet), or export to China. The waste pickers can walk 40km a day and get about $30 AUD per week. We saw the pricing at a buyback centre; for PET material a waste picker will receive 5 RAND per kg (50c in AUD). On the Pitch Day to see them strive to make a better life for themselves and their families; and to see such joy and pride shine through…it will stay with me forever.
What was the main take away you had from the visit?
So many, it's hard to narrow it down to one. My first impression is how good we have it in Australia compared to the environment these people are living in. But also, how a program like this can actually change people's lives. It's also a reminder that Sustainability is something different to everyone; in very real terms for the people we met, it means making a living.
Do you think a partnership like the one between WasteAid and Bunzl is important, and if so, why?
Absolutely! The partnership is impacting people's lives; we saw this first-hand. I have never been prouder of the company and cant stress enough how crucial it is that we continue to support charities in this manner. I plan to continue grow awareness in Australia and would ultimately strive to work on (assist with) programs here or even abroad. Sustainability is my passion, whilst not technically my role at Bunzl.