Finalists announced for the Zero Waste Cities Challenge
News
Author: Admin
Published: 13 October 2021
WasteAid's Circular Economy Network has announced the finalists of its Zero Waste Cities Challenge, an innovation competition for green entrepreneurs in Johannesburg, Ho Chi Minh City and Guwahati.
The competition was launched to find grassroots solutions to resource efficiency, waste collection and recycling in South Africa, Vietnam and India.
More than 100 small business owners, social entrepreneurs and product innovators entered the competition, which will eventually see the top six awarded €10,000 prize money and business mentoring to bring their ideas to life.
Following an eight-week business bootcamp, 12 semi-finalists in each hub pitched their circular economy business concepts to panels of esteemed judges, and the most promising 15 have now been selected.
---
Finalists in Johannesburg, South Africa
Bokashi Bran
Bokashi Bran has a vision to produce the highest quality bokashi to divert food waste from landfill sites. Bokashi is a composting technique that enables all types of food waste to be returned back to the natural environment. Using the bokashi system saves landfill space and reduces greenhouse gas emissions by 98%.
BoombaDotMobi
BoombaDotMobi collects organic waste from its paying customers and the wider community to transform it into compost. This is achieved through black soldier fly composting, vermicomposting and heat composting. The team then sells the quality compost product back to local farmers and their community.
Carbon Footprint Recycling
Carbon Footprint Recycling focuses on niche solutions for non-recyclable printer cartridges. Most cartridges end up in landfills and become hazardous. The team diverts, collects and dismantles them. The mild steel and aluminium are traded to recyclers while other materials are reused to make concrete-based products.
Makhabisi Recycling
Makhabisi Recycling & Trading is a 100% black and female-owned company that collects dry recyclables in Johannesburg, diverting them from landfill and prolonging their value. The company aims to drive awareness, educate the community and create a more sustainable environment for local people.
Tash The Recycling Guy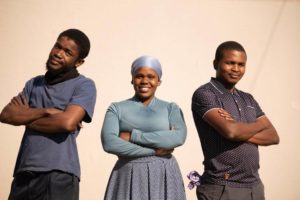 Tash The Recycling Guy was born out of the Tshwane innovation challenge for local students. Their entry to the semi-finals was focused on a small, modular machine that compresses plastic waste to reduce its volume, allowing for easy and efficient transport to a recycling facility.
Judging panel in Johannesburg
Douw Steyn, Director of Sustainability, Plastics Federation of SA
Anele Sololo, Chairperson, National Recycling Forum
Ntokozo Majola, Executive Manager, Seda
Camilo Ramada, Senior Advisor, Business Finland
The final round will be held virtually on 21 October, 2021.
---
Finalists in Ho Chi Minh City, Vietnam
Green Connect
Green Connect has created a mobile app, Green Points, which uses gamification to make green living easier and more enjoyable. The app incentivises people to take green actions, such as recycling or using less plastic, rewarding them with a virtual currency that can be exchanged for a range of benefits or donated to charity.
Papa's Dreamer
Papa's Dreamer is a brand that is creating a green value chain for shower and hygiene products, cutting down poisonous wastewater released into the environment in the process. The team are guided by their ethical production principles, including setting a daily limit of production and avoiding nylon as well as plastic.
Rechic
In Vietnam, secondhand marketplaces do not exist. At the same time, 70% millennials prefer eco fashion, yet 43% admit to throwing an item away after just one use. Rechic aims to be Vietnam's first pre-loved fashion marketplace, curbing consumption habits and keeping clothing in use for longer.
University of Economics
Based in Ho Chi Minh City, the University of Economics has a goal to build the first zero waste university. How? Through the adoption of The Three R's (reduce, reuse, recycle) and by running campaigns to raise awareness as well as to encourage behavioural change across the community on campus.
Veca
Veca is a mobile app that connects scrap sellers and dealers on Android and iOS platforms, supporting the scale of waste proactively and with complete transparency on prices. Through the innovation, the team are revolutionising the way informal waste pickers work and helping to divert huge amounts of waste from landfills.
Judging panel in Ho Chi Minh City
Sam Wood, Deputy Head, British Consulate in Ho Chi Minh City
Uyen Mai, South East Asia Sustainability Leader, Dow Chemical
Matteo Chiampo, Director of Operations, SecondMuse Singapore
Klaus Oberbauer, Programme Manager, SecondMuse Singapore
The final round will be held virtually on 19 October, 2021.
---
Finalists in Guwahati, India
Golden Feathers
Golden Feathers diverts chicken feather waste from reaching the landfill and converts it into fibre that can be used to make insulation material and handloom apparels. The work already provides better economic and social opportunities for more than two hundred tribal women in India.
Inside Out
Hailed as the most troublesome weed in the world, water hyacinth is notorious in Guwahati for creating ecological imbalance and waste. The Inside Out duo have found a way to make paper out of the weed in the only wetland state of Assam, reducing the need for wood pulp. Crafts are also made from the weed.
Ittisha Sarah
Founder of the Northeast Waste Collective, Ittisha Sarah is finding ways to ensure the safe recycling of printed circuit boards. Her innovation is aimed at integrating the formal and informal sector in e-waste management. The idea will also contribute to securing the livelihoods of the informal workforce.
Midway Journey
Midway Journey is seeking to scale its already successful pilot project, Power of 300, which collects and recycles dry waste from 300 households in exchange for a fee while supporting the informal waste sector. The team has a goal to serve 3,000 households, aiming to collect 15 tonnes of recyclable waste every month.
Shree Guru Plastics
Already an established business, Shree Guru Plastics is looking to increase the recycling capacity of its facility in Guwahati. How? Through use of better technology to extend the life of low value and contaminated plastics – which are often left out from the recycling chain and end up in the city's only waste disposal site.
Judging panel in Guwahati
Sumit Jugran, Sustainability and CSR Manager, Tetra Pak
Sanjib Bezbaroa, Vice President: Corporate EHS, ITC Ltd
Gautam Mehra, Deputy Team Leader of Circular Economy Solutions, Giz India
The final round will be held virtually on 20 October, 2021.
---
Congratulations to all the finalists, and our thanks to all the business mentors for helping them become pitch-ready!
WasteAid would also like to extend our gratitude to the esteemed judges in each of the three cities, who will be selecting the final winners.
Please follow the WasteAid Circular Economy Network on LinkedIn and Twitter for the latest updates.
The Zero Waste Cities Challenge is part of WasteAid's Circular Economy Network, funded by Huhtamaki.
Written by Zoë Lenkiewicz